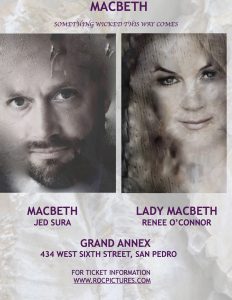 OCTOBER 2019
ROC Productions presents MACBETH, with Renee O'Connor as 'Lady Macbeth' and husband, Jed Sura as 'Macbeth'.
"I am thrilled to reprise the role of Lady M, after playing this role with Shakespeare By The Sea in 2002. I never could have imagined I would have the opportunity to play this intense part with my husband! It will be a thrilling ride for us, and I am grateful for the visionary guidance of professional director, Michael Ritchie, whom I met on Southern Shakespeare Company's production of Romeo and Juliet last year." Renee O'Connor
Tickets will be on sale beginning in May. Check back for updates.
COMING SOON
"ROC MACBETH" merchandise and Macbeth inspired artwork by Renee O'Connor, will be available in May. All proceeds contribute to the production.