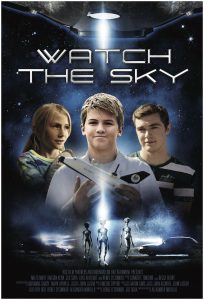 BREAKING GLASS LOOKS TO THE STARS, WITH WATCH THE SKY
Family Sci-Fi Adventure's North American
DVD & VOD Roll-Out Begins August 21
Philadelphia, PA, July 11, 2018–Breaking Glass Pictures has acquired North American Rights to the out-of-this-world family adventure WATCH THE SKY. Breaking Glass acquired rights to the film in a deal negotiated between Breaking Glass CEO Rich Wolff, Miriam Elchanan, Senior Vice President of Sales at Fabrication Films, and Raymond Hsu of Watch the Sky LLC.
Based on his graphic novel WATCH THE SKIES, WATCH THE SKY is written/directed by Alexander Murillo, and proudly produced by and starring Renée O'Connor (Xena: Warrior Princess, Ark) and Jed Sura (Criminal Minds), and introducing Karson Kern and Miles Muir. In addition to O'Connor and Sura, the film also stars J. Nicole Brooks (Chicago Med), Luke Albright (Devil's Pass), Christopher Corbin (Jane the Virgin), Amie Farrell (American Sniper), Miracle Laurie (Dollhouse), and Carol Mansell (Desperate Housewives).
It all began with a simple question: it's just one balloon in the entire sky, what's the worst that can happen? In an effort to capture amateur video of outer space, two young brothers unexpectedly find themselves in harm's way when an innocent science experiment becomes a day filled with unearthly events threatening their sleepy coastal town.
"Murillo does a wonderful job capturing the "awe and wonder" innocence of two brothers in a small coastal town, when they find themselves in the middle of an alien sighting, said Richard Ross, Co-President of Breaking Glass. "This is an engaging family-friendly film, with a tip of the hat to Spielberg."
Starting August 21, WATCH THE SKY will be available to buy/rent on the following platforms: iTunes, Amazon Instant, Google Play, Xbox, Vudu, Fandango, and On Demand through your local cable/satellite provider.